WANT TO UTILISE YOUR DOG'S NOSE?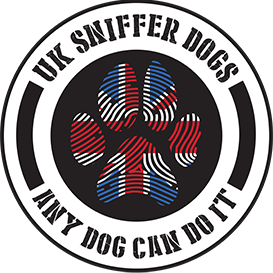 We are a UK Sniffer Dogs Bronze Scentwork Instructor
The Power of the Nose
Did you know that both humans and dogs have a olfactory bulb at the front of our brains which processes scent? Did you also know that whilst humans have 5 million olfactory receptors, our dogs have 300 MILLION!! because of this, a dog's nose is so sensitive that they could smell half a teaspoon of sugar in a olympic-sized swimming pool! - pretty neat huh?
BRONZE SERIES 1 AND 2
All handlers and their dogs will firstly attend our Bronze Series 1 workshop; where you will learn about the foundations of how your dog's nose works, scent identification using kongs, indications and searches using pipes and bags. Our Bronze Series 2 workshop is how you can progress and learn about vehicle searches, laying hides, chair searches and novel environments. You may only attend series 2 if you have completed a series 1 workshop. All handlers will be given a few items on our series 1 workshop to help get you started at home; a slider tin, aluminium pot, vials and kong pieces
BRONZE SERIES 1

WORKSHOP

Where: TBC
Next Workshop Dates: TBC
Price: £75
This is a almost 3 hour long workshop, with up to two long breaks. Handlers will learn how to teach their dog to recognise a scent, search and indicate to that scent. Dogs must be okay to sit in the car to have a break; scentwork is extremely exhausting and the dogs will need rest periods. This workshop is suitable for dogs of all ages; as well as reactive dogs and those who lack confidence. Guardians will need to bring with them a small or medium RED CLASSIC kong. Dogs are then eligible to attend a series 2 workshop for progression.
121 SCENTWORK:
£50 per hour


After a workshop
A PDF booklet will also be sent electronically for guardians to keep. Each attendee for the Bronze Series 1 will receive a small scent kit to help get them started on their scent detection journey with their companion. This is also included with 121 training for a minimimum of two sessions booked. All workshop attendees also will receive a certificate upon completion of the scentwork workshop.