WANT TO UTILISE YOUR DOG'S NOSE?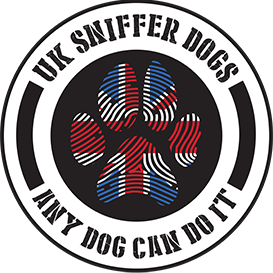 WE ARE A
UK SNIFFER DOGS
BRONZE

SCENT DETECTION INSTRUCTOR
The Power of the Nose
Did you know that both humans and dogs have a olfactory bulb at the front of our brains which processes scent? Did you also know that whilst humans have 5 million olfactory receptors, our dogs have 300 MILLION!! because of this, a dog's nose is so sensitive that they could smell half a teaspoon of sugar in a olympic-sized swimming pool! - pretty neat huh?
Both scent detection workshops will be limited to six dogs. Reactive dogs are welcome to attend but please contact me before booking

BRONZE SERIES 1 AND 2
All handlers and their dogs will firstly attend our Bronze Series 1 workshop; where you will learn about the foundations of how your dog's nose works, scent identification using kongs, indications and searches using pipes and bags. Our Bronze Series 2 workshop is how you can progress and learn about vehicle searches, laying hides, chair searches and novel environments. You may only attend series 2 if you have completed a series 1 workshop. All handlers will be given a few items on our series 1 workshop to help get you started at home; a slider tin, aluminium pot, vials and kong pieces
Bronze Series 1 Scent Detection
Where: April's Farm, Upper Enham, Andover
Next Workshop Dates: Saturday 9th July from 4:15pm
Price: £75
This is a almost 3 hour long workshop, with up to two long breaks. Handlers will learn how to teach their dog to recognise a scent, search and indicate to that scent. Dogs must be okay to sit in the car to have a break; scentwork is extremely exhausting and the dogs will need rest periods. This workshop is suitable for dogs of all ages; as well as reactive dogs and those who lack confidence. Guardians will need to bring with them a small or medium RED CLASSIC kong. Dogs are then eligible to attend a series 2 workshop for progression.

Book Now
Social distancing would need to be maintained at all times between handlers and trainer
All attendees will receive a certificate, pdf handouts of the exercises done and some scentwork items to get you started. But thats not all. You will gain access to our online training community. All our terms and conditions can be found via the booking button above.
Interested? Please Contact us to find out full details of these workshops or click the button above to secure a place straight away.
Also give our Facebook page a follow to ensure you're aware of any further updates; because this is generally where I update upcoming workshops first.
121 SCENT DETECTION:
£45 per hour
3 block sessions £115
So if you're interested in completing a series workshop equivalent through 121 sessions, three sessions will be required.